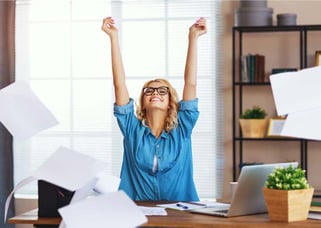 Are you wanting to end manual data entry in invoice processing?
Do you have too many invoices and not enough time, which makes you feel overwhelmed and exhausted?
Are You Sick of:
Extra work for non-PO invoices?
Losing your best employees when you need them the most
Stressful everyday processes and painful audits
Putting out AP fires every day
Missing early payment discounts
Lost or mis-placed invoices
Bad relationships and decreased credit limits with vendors or suppliers
We believe you deserve a better way. It's just wrong to have so much to do and not enough hours to do them.
So sign up now for a free demo video on how Automated Invoice Processing Software can help you end manual data entry.
The Benefits of Invoice Data Automation Can Be Felt Immediately
Imagine this: you will finally experience the end of the month as just another day.
Benefits of Invoice Processing Software with Grooper:
Seamlessly process PO and non-PO based invoices
You and your team never miss another meaningful moment at home again
Delight your vendors and impress your bosses
Team members are freed up to work on higher-value projects rather than data entry
Improve and streamline invoice approval workflows without the inefficiencies of paper
Gain much more visibility into spending and give your employees the ability to check invoice statuses much easier
A fraction of the errors
Improve relationships with vendors
Avoid all late payments, and get more early payment discounts
Software that can eliminate data entry organization-wide, not just in Accounts Payable
Here's 5 Things You Will Get Out of This Video
Automation is more critical than ever for Accounting Departments. In this video, you will learn how automation applies to both PO and non-PO invoices.
Plus, you will learn how to:
Reduce labor around document preparation, capture, and data entry
Retain vital departmental intelligence regardless of work force
Implement 2- and 3-way matching
Automate tracking workflow to ensure vendors are paid on time
So check it out today and learn more about how we can help you make Invoice Processing so much easier!