Intelligent search and discovery tools deliver critical insight in the digital workplace.
Today's businesses demand near-instant access to information. And they need it in a format that's easy to understand.
Most organizations have multiple silos of data spread across departments and geographies. What's needed is a centralized interface that creates an environment for rapid time-to-insight.
What Should an Enterprise Search and Discovery Software Do?
Enterprise search and discovery is one of the most essential components of every digital workplace. The future of your business depends on this critical capability.
Measure the effectiveness of your search and data discovery tools and processes:

1. Drive innovation
Innovation is not just for start-ups or industry disruptors. It's the lifeblood of effective business strategy. Searching and discovering data should be so impactful that it changes the way you do business.
2. Create operational efficiencies
How much time do users spend searching for information? Do they have multiple options for intelligent search like voice and integrations with the applications they use every day?
3. Improve business outcomes
What critical business outcomes do you attribute to the effectiveness of search and discovery?
However, Enterprise Search and Discovery is not a Product
The true value of discovering information is in the insight it provides. So think about search and discovery as an "insight engine" for a constantly evolving vehicle. While specific products and solutions will be implemented, the human factor will have constantly changing needs.
When is there ever enough insight? Never!
Big Tip:

Plan for a

continuous evolution

of search and discovery as you implement and then regularly test, measure and improve, and target new goals.
3 Tips for Successful Enterprise Search and Discovery Software Deployment:
1. Set proper expectations
Document the scope of your initiative. The breadth of possible projects and business processes you can serve is almost endless.
To have an enterprise search and discovery deployment that is a smashing success, consider everything from:
Offsite data access
The devices that will be used
The sources of information (custom applications, cloud, on premises, etc.)
The skillsets required to implement the solution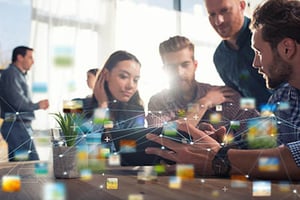 2. Commit the right people
Success will hinge on having the right people at the right time. You will need internal and external human resources.
You'll need developers, data architects, user interface designers, project managers, and business analysts.
3. Establish a timeline
This may seem obvious, but planning for a 6-month implementation is our recommendation.
Of course, projects can take more or less time, but the right expectation is the one that provides the valuable time needed for completing a proof-of-concept and implementation.
And as we mentioned above, you'll be in a constant cycle of improvement.
Interested in AI-driven enterprise search and discovery software? Check out our great solutions!