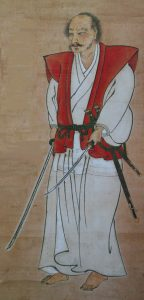 We continue our blog series on business analysis. In our last post, at a high level we looked at what Business Analysis is, how to begin the important process of changing, and how it can help organizations. Through the use of technology like Grooper, BIS is committed to helping organizations navigate change successfully.
Today we discuss Changing Strategically. . .
"THE GAZE SHOULD BE LARGE AND BROAD… IN STRATEGY IT IS IMPORTANT TO SEE DISTANT THINGS AS IF THEY WERE CLOSE AND TO TAKE A DISTANCED VIEW OF CLOSE THINGS." -Miyamoto Musashi
Although neither Projects nor Business Analysis are an act of war, they sometimes feel as if they are and they can all most definitely benefit from a solid and well-planned strategy, just the same.
The International Institute of Business Analysis (IIBA) Business Analysis Body of Knowledge (affectionately known as the BABOK Guide), provides an entire section for the knowledge area of "Strategy Analysis;" and states, "Strategy defines the most effective way to apply the capabilities of an enterprise in order to reach a desired set of goals and objectives."
Author Michael Lewis' "Moneyball," about Oakland Athletics baseball team and its general manager Billy Beane, provides a good example of this definition. In the book, a team, struggling to survive with the loss of their star player, was making assumptions about their problem based on surface pain, followed by defining solutions with their built-in biases. That situation could have destroyed their professional team. However, thanks to an outside perspective – someone taking a step back, looking objectively at the big picture and thinking out of the box – that resulted in what was deemed the most efficient and "wildly successful" baseball team transformation ever. The approach is still taught at the University of Virginia.
In this article, we will be discussing this shift in mindset at a high level:
Analyzing Current State
Defining Future State
Assessing Risks
Defining Change Strategy
---
Analyzing Current State
Even Google, as powerful as its search capabilities are, must know where you are starting before telling you how to get where you are going.
Understanding current state and questioning the "why" behind that can give you invaluable insight into business rules that define why we do what we do, as well as uncover unspoken facts about how things are accomplished. This sharing of information can lead to immediate improvement and build productive relationships in the process.
The current-state analysis is also where we uncover the REAL problem (or opportunity).
Current state is often represented in one of the following four forms:
Scope Model
Functional Decomposition
System Context Diagram
Business Process Models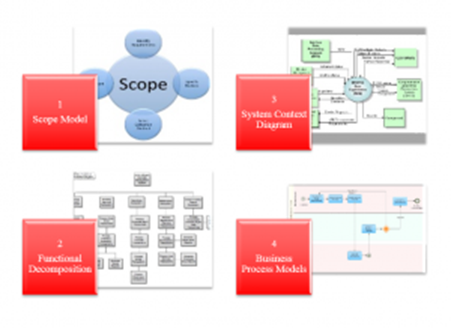 Techniques
We arrive at one of these representations through several techniques, most often starting with a Strategy Analysis Workshop.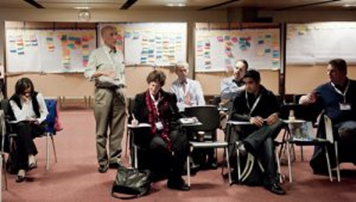 Strategy Analysis Workshops are highly efficient in their approach to uncovering unknowns and to achieve consensus in the understanding of where the organization is today in order to enable effective collaboration that leads to the desired future state more successfully.
Using the Strategy Analysis Workshop approach, we can rapidly:
Uncover current state
Detect risks
Pinpoint stakeholders
Identify desired future state
Spot constraints and dependencies
Outline rules and requirements
We show how we improve efficiency during the discovery process by:
Conducting interviews
Using transformation guiding techniques
Utilizing workshops to identify requirements
Observing the workplace
Defining Future State
Strategic Analysis is all about the big picture. Business Analysts strive to stay at the most appropriate level of abstraction to ensure we do not spend effort on details that could be irrelevant to the selected solution(s).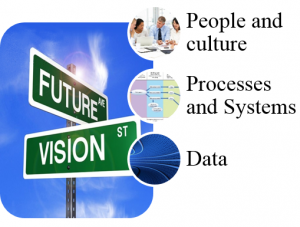 To find the right solution to the right problem, a Business Analyst gets just enough detail to effectively evaluate different solution(s) options.
The most important aspects of defining future state are:
Vision
Impact to people and culture
Modifications needed to systems and processes
Impacted data
The combination of these defines "success". A Business Analyst enables objectivity, innovation and holistic thinking (this is greatly enhanced if the Business Analyst is engaged early and not so close to the department or issue as it reduces bias and removes "blinders").
Assessing Risks
Understanding risks to transformation efforts early in the change process can greatly improve mitigating potential threats should they occur. Risks are identified early and throughout the analysis processes.
Defining the Change Strategy
Once we understand the true need or opportunity, define our future-state vision, and assess possible risks, we can then begin to examine options for solutions.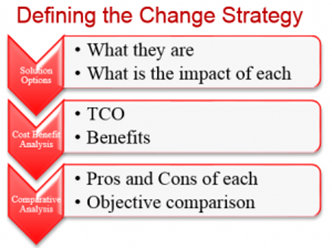 For any given change engagement, it is best to define at least three alternate solutions (one can be "do nothing") to support the process of objective solution selection.
Solution alternates should present arguments with the following aspects considered:
Solution Options
Cost Benefit Analysis
Comparative Analysis
The final work product for Strategy Analysis can take many forms, some of which are:
Business Cases
Statements of Work
Strategic Plans
Simple Statements of Change (if the change is not complex or large in nature)
Recap
Strategic Analysis can make or break a change. The process does not have to take long – it can be as little as five minutes in cases involving change that is straight forward and of low complexity or size. Strategic Analysis also could be a months-long process if you are considering large scale or highly complex change.
Often, the process of Strategy Analysis completely shifts expectations, solution decisions and strategic plans because it enables unbiased evaluation, and solution and organizational change planning that is less chaotic and more…well…strategic.
It's all about the R3
Right solution at the Right time for the Right reasons