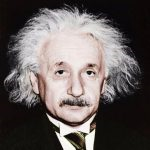 "IF I WERE GIVEN ONE HOUR TO SAVE THE PLANET, I WOULD SPEND 59 MINUTES DEFINING THE PROBLEM AND ONE MINUTE RESOLVING IT."
Have you ever "finished" a project only to find a critical, fundamental requirement was missing? Have you ever been so far into a change effort – to the point where no one wants to turn back even when it is realized that it is the wrong solution or the entirely wrong problem being solved?
Business Analysis
Business Analysis is a discipline and profession, devoted to enabling change. If leveraged correctly, it evaluates a problem or opportunity from a holistic perspective ensuring the true needs are understood.
This can involve any or all three legs of change – People – Processes – Technology.

Think of Business Analysis as you might a 3-legged stool. If any single leg is missing, the structure will likely fail. Good Business Analysis goes beyond technology, focusing on overall value delivery.
The highly trained individuals who guide change for organizations and oversee the Business Analysis function are known as Business Analysts (or simply BAs) – and their mission is to help keep all three legs of the stool firmly in place!
They're not Einstein, so they won't be discovering the next physics breakthrough. However, Business Analysts can help ensure the organization is solving the right problems, the right way at the right time.
In this article, we will be discussing (at a high level):
---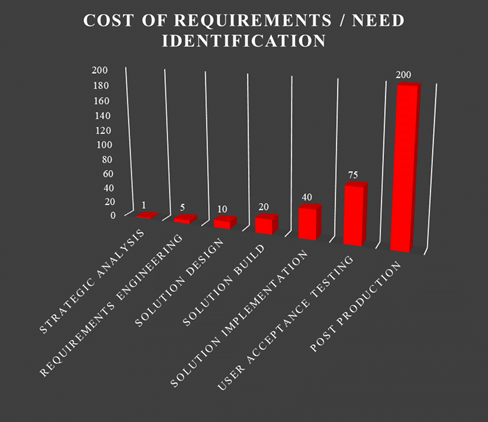 Why should we do business analysis?
Done well, Business Analysis statistically results in higher project success, both during the change process, as well as post production with increased change adoption.
As you can see in the Cost of Requirements / Need Identification graph, the later in the process a requirement is identified, the more expensive that finding becomes.
Engaging a BA early in the process can greatly reduce the cost of a change initiative.
Efficiencies can be found in:
Project cost
Technology
Process
People
The value of business analysis defined:
Visual deliverables (improves adoption)
Strategically focused (enterprise effect understanding)
Interactive and collaborative (stakeholder committment vs involvement)
Unbiased / Out of the Box thinking (Idea generating / innovation)
Relationship building (increased trust reduces fear)
How is business analysis done?
Quick background and commercial…The International Institute of Business Analysis (IIBA) is a professional body governing BA best practices.
The Business Analysis Body of Knowledge (BABOK) produced by the IIBA defines knowledge areas and tasks associated with the discipline. I bring this up to underscore that there are best practices, certifications, competency levels and that Business Analysis is a very real discipline that organizations can feel comfortable putting time and effort into. For purposes of this (and future blog entries), you will see only a few examples of ways in which a BA would engage. But I encourage you to visit www.iiba.org to learn more.
Business Analysis is one of – if not THE – most flexible functions involved in change. The BA will evaluate the situation and tailor an engagement to that which will provide the highest value with the least effort.
Typical efforts a BA can assist with:
Business model strategy
Technology improvement
Cultural transformation
Technology introduction
Process improvement
Organizational restructuring
Product definition
A Sampling of work products a BA may deliver:
Process Models
Business Model Canvas
Entity Relationship Diagram
Screen Mockups
Use Cases and/or User Stories
Requirements Listing (Business, Functional, Nonfunctional and Transitional)
Decision Models
When to engage a BA?
On the beloved Star Trek series, Scotty could beam the crew up at nearly any time – it didn't matter what situation they were in. He was there to get them to safety.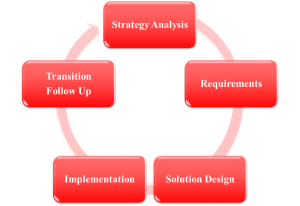 In Business Analysis, however, it is best to engage the BA as early as possible – preferably in the early strategy setting – and before there's real risk of failure.
Given the "Cost of Requirements / Needs Identification" chart above which depicts the cost of identifying new requirements or uncovering unknowns, it is best to uncover such EARLY.
Activities and facilitated questioning are key in doing so and are a specialty of skilled BAs. Engaging the BA early will also reduce the eventual time and effort needed to get the BA "up to speed".
Another item of note is to engage the BA before a project even exists. A BA's efforts may result in the recognition that a project is not even appropriate, saving the organization time and money with the avoidance of unnecessary work.
In closing:
A BA is:
A change enabler and charter of the course of change
Who can:
Save the organization time and money, ensuring the right change happens for the right reasons at the right time…
By:
Flexibly executing appropriate activities and delivering only the needed work product to support the change…
When:
Engaged at an appropriate time to provide the highest value for transformation.
Think of it this way: A BA is like Google for business. They help you understand where you are, where you should or want to be going, and they help you chart the most effective and efficient path to get there.
In future posts, we will dive ever-deeper into the intriguing world of Business Analysis. I look forward to engaging with you through this blog, and I encourage comments and interactive dialogue to increase our collective understanding and mutual appreciation.
Until next time, when your business needs call for change – and let's face it, whose doesn't call for change these days – feel free to call upon us at BIS. We're here to work with a variety companies to ensure the best, most positive business outcomes.